The IUCM offers single rooms for a rental price of € 430,00 for March. The single rooms are a located in different student residences of the Studentenwerk München, close to bus or subway stations with a good connection to the university.
Student Residence
The rooms a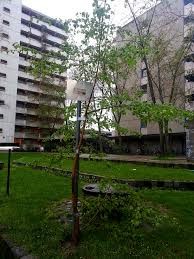 re only available for one month from September 2nd - 28th, 2019.
LMU Erasmus/LMUexchange students have to apply for accommodation together with their study application form. Please tick the appropriate box in the student application. (Information)
Only if the room application was not successful LMU students are able to apply for a one month accommodation together with the Study Preparation Program.

All students are accommodated in single rooms and will be provided with sheets and blankets, which can be washed at one of the laundry rooms in the building. Towels and kitchen utensils (cutlery, cups, plate and pots) will not be provided. We ask that participants acquire these items according to their own personal needs.
The dormitory has special laundry room with washing machines and dryers.
Please note that all student rooms are geared towards student needs and financial means. As such do not expect dorms to meet claims on luxury comfort.
Arrival
/ Departure
Arrival: September 2nd, 2019, 2:00 p.m. - 6:00 p.m. .
Departure: September, 28th, 10:00 a.m. at the very latest
We request that participants arrive on September 2nd so that they have enough time to settle in, to get to know the other participants or start exploring the city. All students will get detailed information in August.